For companies that sell products, there is a continuous product cycle happening. New products are developed and introduced to the market, while older products are discontinued.
With 4.5 million visitors using ProductReview.com.au every month, we want to ensure that the information listed about a company's products is up to date. Updates help consumers research the right information and know which products are still available.
In this article, we will dive deeper into how we manage products that have been discontinued. Our goal is to help you understand how we do this, what consumers see, and how to collaborate with us.
When is a product discontinued?
We discontinue a product once it's no longer available to consumers. Our Content Team continuously reviews the products listed on our site. Once they notice a product is no longer available, they do additional research and then, if appropriate, mark the product as 'discontinued'.
Our definition of 'discontinued' is that consumers can no longer buy the product as new in Australia, either directly from the company or through a retailer.
We also work directly with companies that update us on products they are discontinuing.
What happens when a product is discontinued?
When we mark a product as discontinued, we place a yellow information banner on its listing. This banner highlights that the product is discontinued and links to the listing page of any newer models that have replaced it.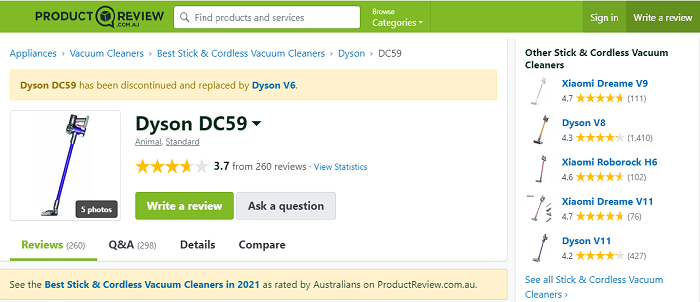 If a new model comes out, is a new listing created?
When a new product is launched, we evaluate whether this is an entirely new product or a new model in an existing product line.

A new model in an existing product line
If it's a new model, we will then add this model to the existing product listing. The example below illustrates the various models of the Dyson Cinetic Big Ball vacuum cleaner. You can scroll down to the 'Details' section on a product listing to see them all. This approach helps customers see the ratings and reviews of both individual models and the overall product family.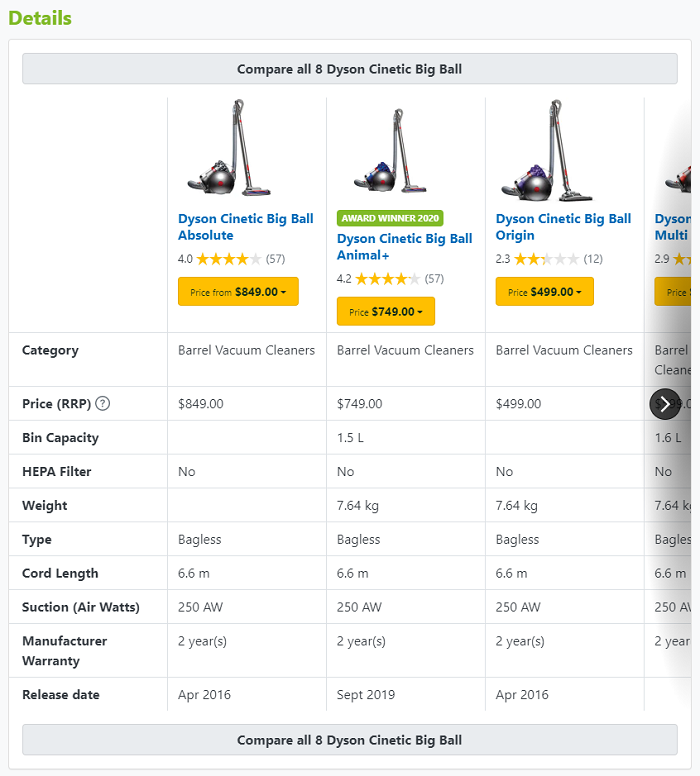 A new product

If the product is entirely new, we create a new listing for it. In determining whether it is a new product or a model, we evaluate the product, how it is being marketed, its features compared to previous models, and if it is fundamentally a different product compared to the past versions.

Does a discontinued product still show on ProductReview.com.au?
Discontinued products still appear in specific places on ProductReview.com.au. Popular products that consumers still search for are visible in two places, category pages and brand pages.

Category page
Discontinued products can be viewed along with active listings on the category page. From the filters on the left hand side, scroll down to 'Show discontinued,' and tick the box. The example below is from the Stick & Cordless Vacuum Cleaners category page.

Brand page
You can also view discontinued products on a brand's page of products by selecting the brand name from the filters on the left hand side, along with ticking the 'Show discontinued' box.

Will a discontinued product still show up in Google organic search results?
Unfortunately, Google is not able to determine if a product is currently active or discontinued on ProductReview.com.au. If Google has indexed the product's listing page, it will show up in organic search results.
Once we discontinue a product, it falls down the search rankings very fast. We notice that traffic for most listings drops off within one month after being discontinued.
How do we update your products on ProductReview.com.au?
In addition to tracking discontinued products, we also work directly with companies. They are proactively letting us know about new and discontinued products so we can update listings on ProductReview.com.au.
If you have product updates, you can send them to us at bm-support@productreview.com.au. We give priority support to our customers and strive to update their listings within 24 hours. For non-customers, we make the updates within five business days.