On ProductReview.com.au, you might notice that some reviews have a badge that marks them as 'Verified'. This badge means ProductReview.com.au has confirmed the reviewer is a customer based on additional documentation that was provided to us.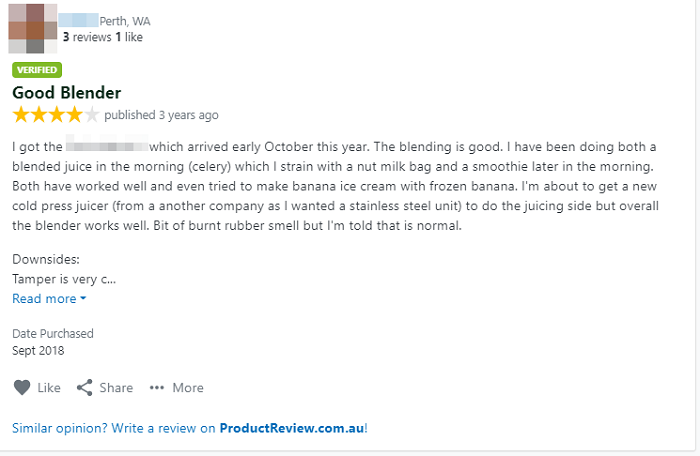 ProductReview.com.au has a detailed moderation process that every review goes through before being published. This article will dive deeper into the review verification part of this process. We will outline how we use review verification, why it's important, and how it helps to ensure we publish quality reviews.


When do we ask for verification?
We ask for verification for every review as part of the review submission process. However, it is not mandatory outside of select categories. Verification is one of many data points we check to ensure we publish valid reviews on ProductReview.com.au.
At the discretion of our Moderation Team, if a review contains inconsistencies, we will ask for proof of purchase before publishing a review. In addition to this, ProductReview.com.au may request verification after a review has been published. If this request comes once a review has been published, the review is temporarily disabled. Once we receive proof of purchase, we will re-approve the review.
For more details on ProductReview.com.au's moderation process, please visit our Trust Centre.


What's the difference between verified and non-verified reviews?
A verified review is one that has had a proof of purchase checked and verified by the ProductReview.com.au Moderation Team.
Many businesses now send review requests to their customers. Reviews coming from these requests are considered unverified unless the customer provides a proof of purchase. These reviews still undergo a detailed moderation process to ensure they are valid reviews.


What do we accept as verification?
We accept documents that prove the reviewer bought the product or worked with the business reviewed. These can be receipts, tagged pictures of a product (for product reviews only), proof of purchase, paperwork, or other information related to the purchase/experience. As our goal is to verify a review, we provide a range of ways to do this.


What do we do with the information provided?
ProductReview.com.au only uses the information provided to verify the customer. We never share this information with businesses (even when asked) nor do we identify individual customers.
Customers can black out information they don't feel comfortable sharing prior to providing their proof of purchase. For more details about how we handle personal information, please check out ProductReview.com.au's Privacy Policy.


Do we accept reviews from non-customers?
In certain circumstances, we do accept reviews from non-customers. If a consumer has engaged with a business and they submit a well-written review of their experience, we will accept it. An example would be someone who attempted to sign up with an Internet Service Provider. Even if they didn't end up becoming a customer, they can write a review about their experience as a potential customer. A customer's experience starts from the first touchpoint and these reviews provide insight to other consumers researching the same business.


In summary, verification is one of many tools we use to moderate reviews on ProductReview.com.au. Our goal is to ensure we only publish legitimate reviews that help Australian consumers.