To explore the features of the Professional-tier Brand Management subscription, first-time brand managers who have never had a free or paid subscription can trial the features of the Professional-tier subscription for 30 days for free.
To do this, brand managers simply need to:
Step 1:
Claim their brand by clicking the 'Manage this listing' button on the right sidebar of their listing (below) or by logging into their company representative account by searching for their listing here: https://www.productreview.com.au/bm/subscription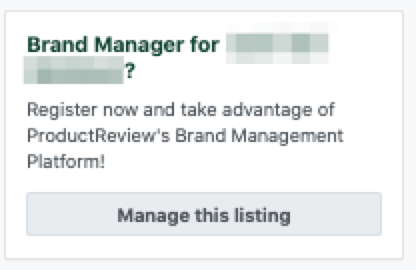 Step 2:
Fill in their billing entity details & subscription information
Note: After your 30-day trial a paid subscription will be processed moving forward. If you would like to avoid payments from being processed, please ensure you cancel your subscription before the 30-day trial ends.