We place 3 different kinds of notices on listings. More information on these notices can be found below.
Important Information:
For important information such as product recalls, change of ownership discontinued products, or businesses that no longer operate, we place a yellow notice at the top of listings to notify consumers.

Incentives:
In the past, we placed blue notices at the top of the listings to notify consumers when incentives are being offered to customers for submitting reviews. These are being phased out and are now replaced with filters that are accessible to all users on all listing pages. These filters can be applied by consumers on a listing to help them identify organic reviews and incentivised reviews.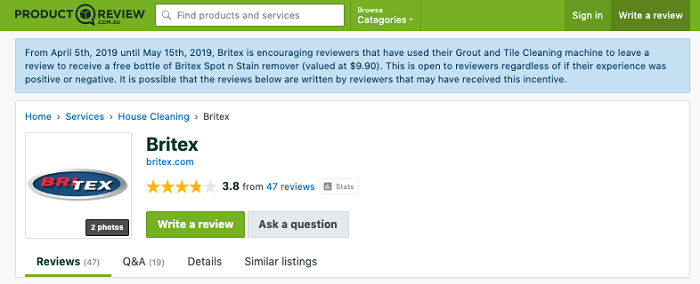 Suspicious Reviews:
If ProductReview.com.au detects a large number of suspicious reviews for a listing, we may place a red notice on the page notifying consumers.