Brand Managers may run review incentive campaigns to encourage their customers to write reviews for their products or services. All incentive campaigns are required to comply with the guidelines set by the ACCC in accordance with the Competition and Consumer Act (2010):

Incentives are offered equally to consumers who are likely to be complementary and consumers who are likely to be critical, and positive and negative reviews are treated the same;

The reviewer is expressly told that the incentive is available whether the review is positive or negative.

The ACCC guidelines state that where an incentive is offered, it:
"... [must be] prominently disclosed to users who rely on affected reviews."
To satisfy this condition, all listings have a filter on ProductReview.com.au that enables users to easily recognise reviews that have been incentivised. This filter is accessible by all users regardless of if they are logged in or not.

Here is an example of what this filter looks like: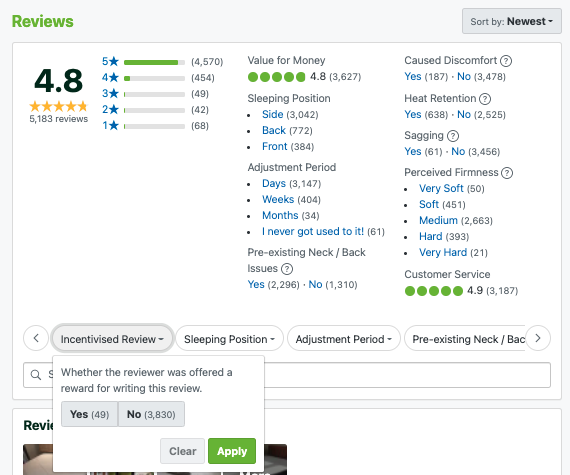 We strongly encourage brands to refer to the ACCC guidelines when developing their incentive campaign to ensure their campaign meets the requirements found in the Competition and Consumer Act (2010).

Note: If our Moderation Team identifies any filtered, or unequal incentivised campaigns, this will be reported to the ACCC, with all associated reviews immediately removed.