The Write Review Link enables you to embed a link into your post-purchase emails. These links will direct users straight to the Write Review Form for your listing, and also enable you to pre-fill some of your customer's details.
To access the Write Review Link please use the following steps as a guide.
Step 1:
Log into your Brand Management Platform dashboard.
Step 2:
Scroll down to the Review Acquisition section on the left side of the dashboard, and click 'Write Review Links.'
Step 3:
If you are managing multiple products under one brand, select the product that you would like to collect reviews for.
The link that appears in pink under 'Usage example' will look something like this:
https://www.productreview.com.au/listings/YOURBRAND/write-review?displayName=__DISPLAY_NAME__&emailAddress=__EMAIL_ADDRESS__&collectionMethod%5BsolicitorType%5D=brand&collectionMethod%5BinternalGroupIdentifier%5D=write_review_link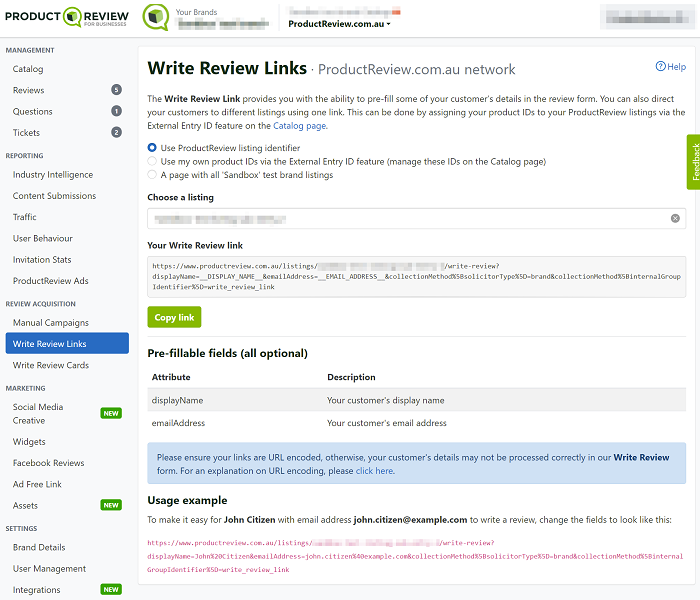 If you sell multiple products and these products are also listed on ProductReview.com.au, you can also use the External ID feature to create one link that enables you to direct users to different listings depending on the product they purchased (you can learn more about this here).
Step 4:
Embed this link into your post-purchase emails so that they will automatically be sent to customers after each conversion.
Note: __EMAIL_ADDRESS__,__DISPLAY_NAME__ are substitution tags that need to be replaced with the customer email address and display name (which we recommend to be the first name only).
If you are using a third-party software to send your post-purchase emails, you may be able to upload CSV files with specific column names, which you can match with these substitution tags.
In some cases, third-party software has specific guidelines on what substitution tags should be. In this case, you would need to change certain fields in the Write Review Link to fit in with these requirements.
E.g. If the software guidelines require substitution tags to be in this format: %email_address% you will need to replace __EMAIL_ADDRESS__ with the correct format.