How do I integrate my Brand Management account with my eCommerce store?
ProductReview.com.au can now integrate with Shopify, Magento2 and WooCommerce. This will enable businesses to:
Automatically send product review invitations when customers purchase from their e-commerce store.
Use ProductReview.com.au's review widgets and rating badges on the product pages to display the reviews collected for each product.
Note:
Before getting started, please ensure you have
created a brand
on ProductReview.com.au and have admin access to your eCommerce website. The steps below cannot be completed if you are missing a brand or do not have one or both of these logins.
Step 1:
Log onto your Brand Management Account and select the correct brand you would like to integrate.
Step 2:
Create your e-commerce platform catalog on the Brand Management Platform.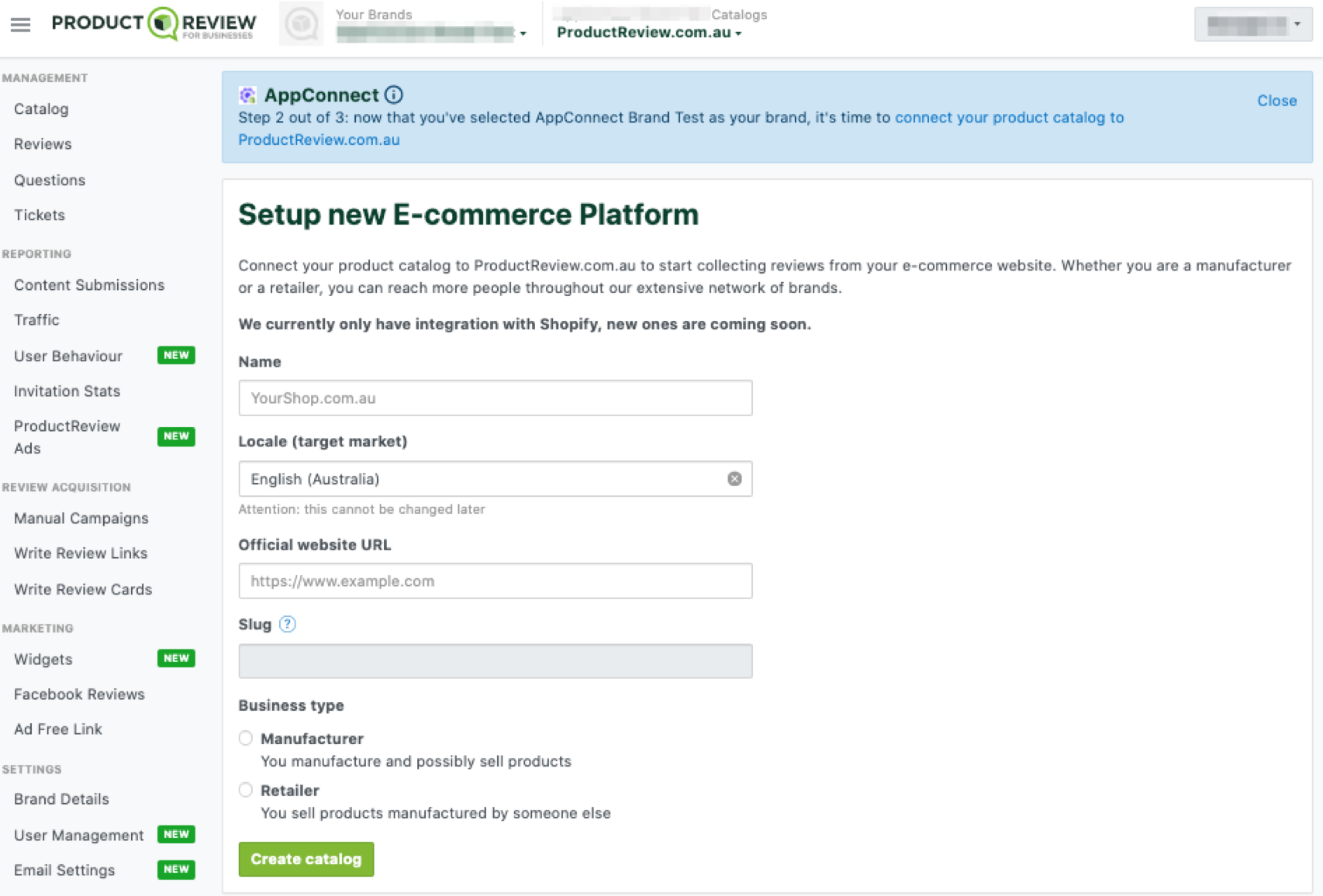 Note: It is important to choose the correct 'Business type' (manufacturer or retailer) as this will impact your review syndication options later.
Step 3:
Select the relevant integration for your website.

Step 4:
Once you have selected the correct integration for your website, you will be given specific installation instructions (depending on the eCommerce platform you are using).
I've now integrated my eCommerce store with the Brand Management Platform, what's next?
Once you have integrated your eCommerce store with your Brand Management Platform:
Automatic invitations will be sent according to the cadence you've specified after each customer makes a purchase. No further action is required for review collection unless you would also like to collect reviews for your merchant listing (your business listing). Please

refer to this article

on how to collect reviews for your merchant listing.
Review widgets and rating badges can be implemented on your product pages to display the review content you collect. Go to the widgets and rating badges section of your Brand Management Platform to obtain step-by-step instructions on how to install these tools.
If you are on our paid Brand Management plans you can assign your products to ProductReview.com.au listings to use ProductReview.com.au reviews on your product pages.
If you have a service listing on ProductReview.com.au consider setting up Merchant review invitations.
If you have any other questions, please refer to our E-commerce Brand Management integration FAQs page.